Too Many Dead
An inquiry into Australia's excess mortality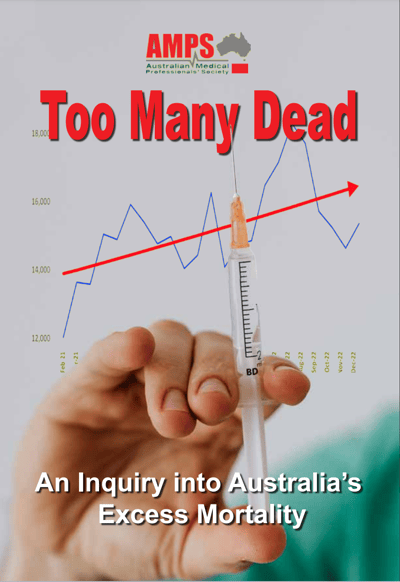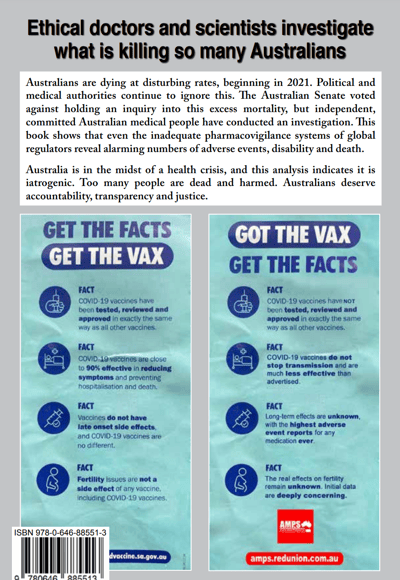 This book is freely downloadable but a donation to help cover the costs involved and to assist us to provide free hard copies to our medical and political authorities would be greatly appreciated. Any excess funds support our medico-legal fighting fund and future campaign actions.
It may at first seem an extraordinary thing to say, but the fact is that Australia is currently experiencing a prolonged elevated rate of death across all age groups. An examination of the official figures shows rates in the vicinity of 12-17% above baseline averages, rates never seen since wartime. They leapt up in early 2021 and continue at unusual levels to this day.
In response to the globally declared COVID-19 pandemic, Australian medical and political authorities enforced unscientific and profoundly unethical public health measures such as extended lockdowns, border closures, school closures, forced masking and mandated novel vaccines still clearly in the experimental phase of development.
There is no credible evidence that the non-pharmaceutical or pharmaceutical public health interventions enforced reduced mortality and kept people "safe".
The unprecedented excess deaths being seen in Australia are also being seen globally, with many countries witnessing disturbing trends in death from all causes, the majority of which are not attributable to COVID-19.
The scale of death suggests we are in the midst of an actual disaster. The fact that it appears silent alters nothing. Too many extra Australians are dying and yet almost none of our public health officials, politicians or medical colleges and associations seem interested in finding out why. We seem to be confronted by administrative wilful blindness. Failure of the authorities to seek answers in fact shows a reckless disregard for the lives of Australians. It is past time for us to demand an answer to what is causing these deaths and how to stop them. If the government really cares about keeping people "safe" why is there such a refusal to inquire?
Senator Ralph Babet put forward two motions in the Senate seeking acknowledgement and an investigation into Australia's concerning excess death data. On March 23rd, 2023 he proposed a select committee of inquiry.
Senator Babet pursuant to notice of motion not objected to as a formal motion, moved a general business notice of motion no. 194 -
That a select committee, to be known as the Select Committee on Australia's Excess Mortality, be established to inquire into and report on (this issue)….
But the motion was defeated 35 to 4. Then again, regarding the Australian Bureau of Statistics Mortality date, on March 24th, 2023, a motion was moved by Senator Babet asking that the Senate acknowledge:
There has been a concerning number of excess deaths in Australia in 2021 and 2022, as evidenced by recent all-cause provisional mortality data from the Australian Bureau of Statistics, and
There is a need for further inquiry and scrutiny as to the reasons for these excess deaths, including why dementia and diabetes have seen significant increases in recent years.
The motion was defeated 30 to 29.
Since it appears those who have been entrusted to serve and protect the people refuse to fulfil their duty to seek answers, the Australian Medical Professionals' Society will do so. AMPS, as an association of medical professionals dedicated to ethical evidence-based healthcare, is undertaking an inquiry that no one else will address. It is our duty as health professionals to make our patient's health and safety our first priority. AMPS will be holding an inquiry into Australia's excess mortality on Wednesday, October 18th in Parliament House, Canberra. We have called for submissions from national and international experts as well as from the TGA, ATAGI and the Department of Health.
The number of dying Australians constitutes an unfolding catastrophe and we owe it to all those dead Australians and their grieving families and friends to investigate what is killing people at such an alarming rate. Failing to seek answers is negligent and far beyond disrespectful.
The results of this inquiry will be made available to all Australians. The published report will be provided to all stakeholders, medical regulatory and political authorities, and to medical colleges and associations.
Your donation to assist in covering the cost of publishing this book is greatly appreciated.
Any excess donations will go towards our medico-legal fighting fund.
EXCESSIVE DEATHS CONFERENCE
You can find more information here
Presenters & Inquiry Contributors
Your donation to assist in covering the cost of publishing this book is greatly appreciated.
Any excess donations will go towards our medico-legal fighting fund.
Dr Clare Craig
Dr Clare Craig is a qualified pathologist, who worked in the NHS and reached consultant level in 2009.
She specialised in cancer diagnostics and diagnostic testing within mass screening programmes.
She was the day-to-day pathology lead for the cancer arm of the 100,000 Genomes Project.
She was the clinical lead for the data team and led research and development projects at Genomics England writing
national guidance and helping build bespoke software.
Dr Craig has been a tireless voice, on and offline, over the past several years in advocating for evidence-based policy around Covid issues,
and the importance of upholding basic medical ethical principles including informed consent and bodily autonomy.
She is Co-chair of the Health Advisory and Recovery Team, a voluntary body of professionals educating the public on COVID issues.
Her first book, Expired - Covid The Untold Story, is out now on Amazon.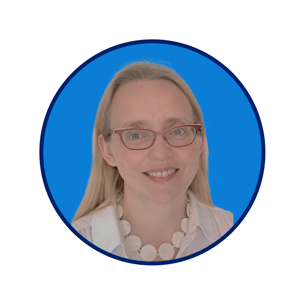 Professor Norman Fenton
Norman is Professor Emeritus of Risk at Queen Mary University of London (retired as Full Professor Dec 2022) and a Director of Agena, a company that specialises in artificial intelligence and Bayesian probabilistic reasoning.
A mathematician by training with a current focus on quantifying risk and uncertainty using causal, probabilistic models that combine data and knowledge (Bayesian networks).
He has published seven books and over 350 peer-reviewed articles. His work covers multiple application domains including health and law/forensics (he has been an expert witness in major criminal and civil cases).
Since 2020 Norman has been active in analysing data related to Covid risk.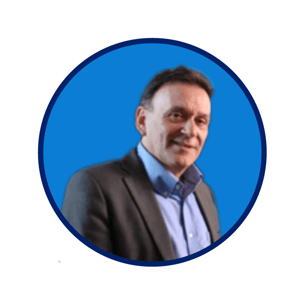 Dr Geoff Pain
Geoff is a scientific consultant. In his undergraduate years, he studied Biochemistry, Chemistry, Physics, Pure and Applied Mathematics and Information Science.
After graduating and completing a PhD in Chemistry at Monash University he entered the traditional post-doctoral circuit, working at universities in Bristol, Cambridge and Adelaide, then returning to Monash.
He then was recruited by Telecom Australia (now Telstra) for a special project in Optoelectronic semiconductor crystal growth. At Telecom he completed a Graduate Diploma in Business Management majoring in Strategy and Innovation. This included qualification in the Law of Negligence.
Geoff took time off to run full-time as a candidate in the 1993 Federal election. He was then offered a fellowship at UWA to work on plasma deposition of materials in the Electronic Engineering Department.
After some private business ventures, NEC Japan invited him to the Microwave and Satellite Communications Systems division in Yokohama for a 3-year appointment in technical and change manager roles. Returning to Western Australia he ran a market research business which extended to investigation of Environmental Pollution and Toxicology projects for government and community groups. He worked in a private Genetics lab and "think-tank" on a wide range of projects.
He has returned to Victoria where he maintains a keen interest in politics. Geoff has published widely and was granted patents.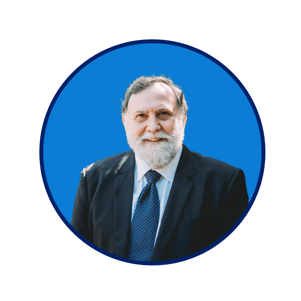 Dr Jeyanthi Kunadhasan
Dr Jeyanthi Kunadhasan was a Consultant anesthetist at a major regional Victorian public hospital and was in practice for more than 12 years.

She has a clinical interest in Patient Blood Management where she spearheaded many initiatives that sustainably brought down the unnecessary transfusion rates in major surgeries, leading to improved patient outcomes and lower cost to the health system.