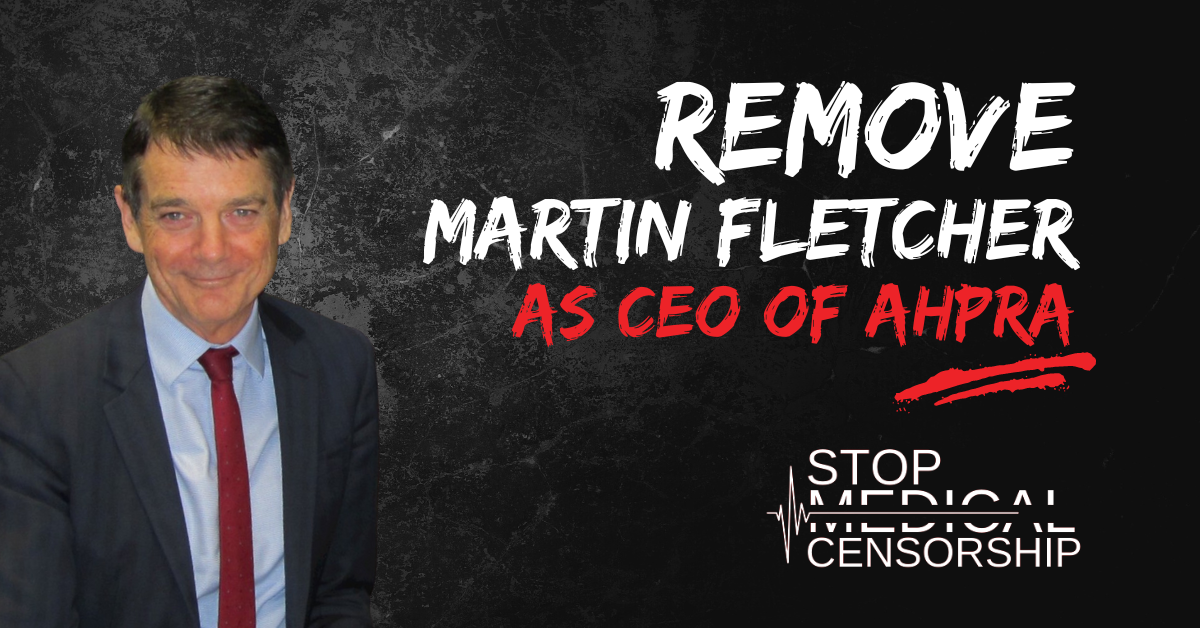 Stop medical censorship
Step 1 to medical freedom: CEO of AHPRA, Martin Fletcher WILL be held accountable for imposing government gag orders on health professionals.
The future of medicine, health and freedom rests in the collective power of the people.
Join the fight today and sign the petition to fire Fletcher
Fight for medical freedom, Fire Fletcher
Why this petition matters
Government gag orders imposed by Martin Fletcher the CEO of AHPRA (Australian Health Practitioners Regulation Agency) and National Boards mean Australian Health Professionals cannot debate evidence-based Science if it goes against the State-imposed narrative without the threat of investigation and disciplinary action. Even private Facebook posts or commentary are worthy of investigation and possible disciplinary action
We believe if the Government's Science cannot stand up to questioning it is not science.
What are we fighting for?
We want to stop medical censorship and fight for medical freedom so that Doctors can be Doctors.

How do we achieve that?
We start with two steps:
Fire Martin Fletcher, CEO of AHPRA

Remove AHPRA's gag order on doctors and other practitioners
Why are we fighting?
Do you trust your doctor or the government with your health?
We trust our doctors and do not accept government bodies or agencies:
Undermining informed consent
Interfering in the Doctor-Patient relationship
Censoring doctors from providing a risk/benefit analysis of all therapeutics
Violating a Doctor's ability to adhere to their Oaths and Codes of Conduct to Do No Harm without threats
'Any promotion of anti-vaccination statements or health advice which contradicts the best available scientific evidence or seeks to actively undermine the national immunisation campaign (including via social media) is not supported by National Boards and may be in breach of the codes of conduct and subject to investigation and possible regulatory action.' It's time to let the frontline speak!
If you want Science to STOP being corrupted by Bureaucracy and to know what is happening on the frontline please sign our petition
Every share counts! Help us make our message louder by sharing this petition
far and wide: